7 Arts (1922-1928) I A Belgian avant-garde magazine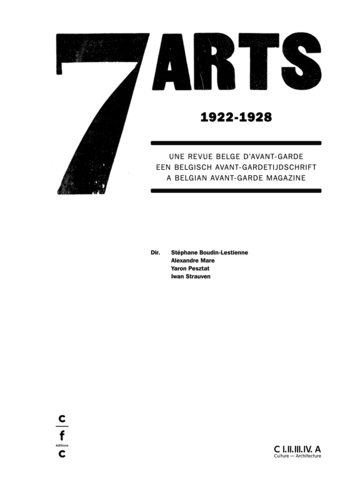 In 1922, three young men founded the avant-garde magazine 7 Arts to promote the arts and in particular the synthesis of all the arts as only architecture and cinema can achieve. Pierre Bourgeois, a poet, his brother Victor, an architect, and the painter Pierre-Louis Flouquet were soon joined by the composer Georges Monier and Karel Maes, painter, engraver and furniture designer.
"The five" succeeded in harnessing the vital forces of the Belgian avant-garde and in placing their magazine at the very heart of the European avant-garde. Throughout the six years of publication the pages of the magazine provided a platform for the principal protagonists of the Belgian and international artistic scene: De Stijl, the Bauhaus, the Purists, the Constructivists, the Futurists and many other champions of the geometric abstraction to which they gave the name Plastique pure or 'Pure Plastic'. Their ambition was to have the arts penetrate every dimension of modern urban life and to transform it in the process.
In 2020, CIVA is devoting a retrospective exhibition to 7 Arts, the impressive adventure that this work presents.
Authors
Stéphane Boudin-Lestienne, Alexandre Mare, Yaron Pesztat, Iwan Strauwen
Preface
Serge Goyens de Heusch
Edition
CIVA
Published
5 March 2020
Type
Book
Language
English / French / Dutch 
Number of pages
240
Illustrations
230 illustrations
Cover
Hardback
Retour e-shop