Brussels. Two and a half centuries of public parks and gardens. 1775-2020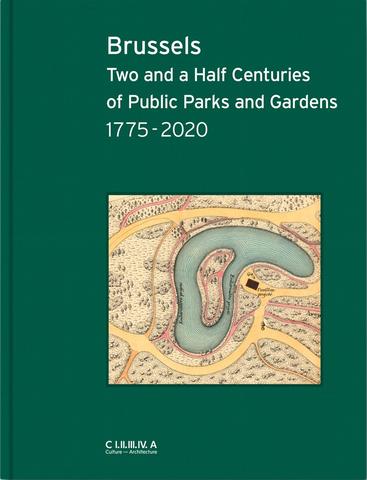 This book offers a new look at the capital's landscape by highlighting, through a richly illustrated panorama – ranging from the eighteenth century to the present day-, the unique history of its parks and gardens as well as of its green infrastructure.
Focused on public spaces, the book enables a new reading of these everyday sites which visitors sometimes pass through distractedly, without always deciphering their style, period or raison d'être. The creators of these landscape designs, often left in the shadows of history, are also honoured, as the volume seeks to show that far from being the result of chance or nature, these spatial designs are artistic creations in their own right. Lastly, by placing these works in an international context, the book shows how much the Brussels region has been, throughout history, at the crossroads of various influences that have contributed in a decisive way to shaping its character.
Directed by
Eric Hennaut and Ursula Wieser Benedetti
Author(s)
Claire Billen, Michel De Beule, Denis Diagre-Vanderpelen, Catherine Franceschi-Zaharia, Eric Hennaut, Thierry Kandjee, Luisa Limido, Chiara Santini, Ursula Wieser Benedetti.
In collaboration with
Marie-Françoise Degembe
Sylvie Van Damme
Serge Kempeneers
With the kind assistance of
Herman Van den Bossche
 
Preface
Michael Jakob (Lauréat du Prix Littéraire René Pechère 2018)
Edition
CIVA
Published
26 December 2019
Type
Book
Language
English
Number of pages
248
Illustrations
240 colour illustrations
Cover
Cloth covered hardback
List of parcs that appear in the book
Parc Astrid, Busselenberg, Parc des Étangs, Cimetière du Vogelenzang (Anderlecht); Jardin botanique Jean Massart, Parc Seny (Auderghem); Mont des Arts, Parc de Bruxelles, Jardin du Petit Sablon, Parc de la Porte de Hal, Parc du Cinquantenaire, Parc Léopold, Squares Marie-Louise et Ambiorix, Parc de la Senne, Jardin de l'Abbaye de la Cambre, Bois de la Cambre, Jardin du Roi, Cité administrative de l'Etat, Parc de la Porte de Ninove (Bruxelles-ville); Parc public de Laeken, Parc Tour et Taxis, Parc d'Osseghem, Square du 21 Juillet (Laeken); Parc Jean-Félix Hap (Etterbeek); Cimetière de Bruxelles à Evere (Evere); Parc Duden, Parc de Forest (Forest); Étangs d'Ixelles, Parc Tenbosch (Ixelles); Parc Roi Baudouin (Jette); Parc Élisabeth (Koekelberg); Parc de Forest (Saint-Gilles); Jardin Botanique, Square Armand Steurs (Saint-Josse-ten-Noode); Parc Josaphat, Parc Gaucheret, Parc Reine-Verte, Parc de la Senne, Parc Walckiers (Schaerbeek); Parc du Wolvendael, Cité-jardin du Homborch (Uccle); Parc Tournay-Solvay, Parc de la Héronnière, Parc Ten Reuken, Cités-jardins Logis et Floréal (Watermael-Boitsfort); Parc Georges-Henri, Parc Malou, Parc Tomberg, Cité-jardin du Kapelleveld (Woluwe-Saint-Lambert); Parc de Woluwe, Étangs Mellaerts (Woluwe-Saint-Pierre)
Retour e-shop