Bruxelles Rangée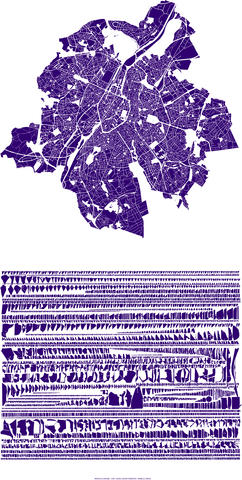 In 2018, CIVA asked French artist Armelle Caron to reorganise the urban morphology of the Brussels-Capital Region - its neighbourhoods, plots and residential blocks. This work, carried out with great patience and sensitivity, led to Bruxelles rangée. The work of art is not only of enormous value from a graphic point of view, but also questions the identity and uniqueness of the city.
The series engraving is part of a series called villes rangées, which Armelle Caron started in 2005 and is still working on today. 14 cities have already been ranked (Paris, Berlin, Rennes, Istanbul, etc.), others are currently being worked on. The artist considers her work to be a graphic anagram that invites us to view the form of Brussels as a simple drawing. However, this way of arranging things again brings social, political and historical aspects to the surface.
Bruxelles rangée is published in a limited edition of 500 copies (100 x 70 cm, numbered) and distributed by CIVA.
Postal shipments only in Belgium. 
Retour e-shop