Ariella Aïsha Azoulay
Screening & Conversation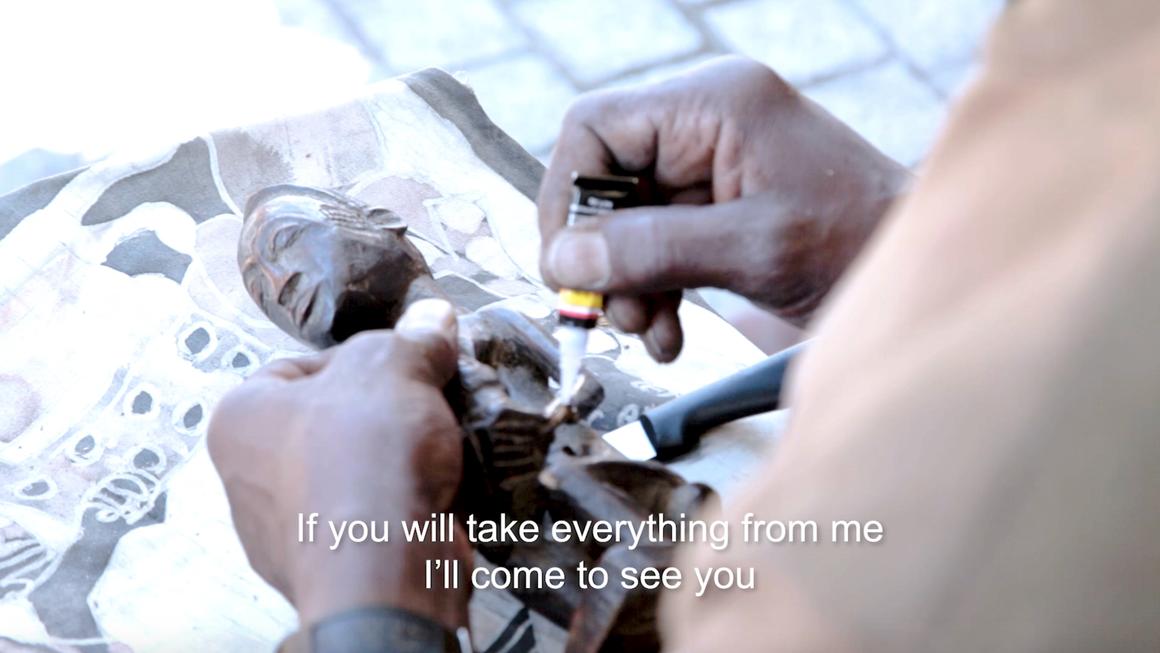 © Ariella Aïsha Azoulay, Un-Documented - Unlearning Imperial Plunder, 2019
In the context of its exhibition Style Congo. Heritage & Heresy, CIVA is pleased to host a screening, book presentation and conversation with Ariella Aïsha Azoulay. Her new book, La Résistance des Bijoux. Contre les géographies coloniales (Editions Rot-Bo-Krik, 2023), along with her two films in the Unlearning Imperial Plunder series, addresses the objects, skills and bodies of knowledge that were stolen during the massive colonial looting of Africa and are now held captive in museums and archives outside the territories from where they were taken.
The first film, "Un-Documented" (2019), which was partly shot at the Tervuren Museum, explores the connections between the looted objects and the pleas of asylum seekers trying to enter the countries of their former European colonizers. The second film, "The World Like a Jewel in the Hand" (2022), focuses on the destruction of the Jewish-Muslim world through a narrative that evolves from catalogs of jewelry, found photographs, and collections of pillaged objects. In both this last film and the book, Azoulay interweaves autobiography and political theory, narrating how to unravel the centuries-old entanglement of Jewish, Arab, and Berber worlds.
The screening will be followed by a conversation with Silvia Franceschini (curator at CIVA) and Jean-Baptiste Naudy, founder of the Editions Rot-Bo-Krik and translator of the book.
Place
CIVA, Rue de l'Ermitage 55, 1050 Brussels
Partner
With the support of Brussels 2030
FILMS:
Un-Documented - Unlearning Imperial Plunder, 2019
English with French subtitles
36 min
The World Like A Jewel in the Hand - Unlearning Imperial Plunder (II), 2022
English with French subtitles
58 min
Ariella Aïsha Azoulay is a professor of Modern Culture and Media and Comparative Literature at Brown University,a film essayist and independent curator of anticolonial archives and exhibitions. Among her books: Potential history – Unlearning Imperialism (Verso, 2019), Civil Imagination: The Political Ontology of Photography (Verso, 2012), The Civil Contract of Photography (Zone Books, 2008); Among her films: The world like a Jewel in the Hand – Unlearning Imperial Plunder II (2022); Un-documented: Undoing Imperial Plunder (2019), Civil Alliances, Palestine, 47-48 (2012), I Also Dwell Among Your Own People: Conversations with Azmi Bishara (2004); among her exhibitions: The Natural History of Rape (Berlin Biennale, 2022, Foto Wien, 2023), Errata (Tapiès Foundation, 2019, HKW, Berlin, 2020), Enough! The Natural Violence of the New World Order (F/Stop festival, Leipzig, 2016).